Projectglaze Exotic – Gloss glazed white body wall tiles in various colours of the spectrum with colour match in porcelain and glazed matt vitrified tiles for perfect colour coordination throughout a project.
TILES IN THE PROJECTGLAZE EXOTIC RANGE
Additional Fittings Available
EXTERNAL ANGLE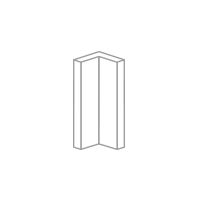 EXTERNAL ANGLE
DOWNLOAD BROCHURE
TECHNICAL DATA
Click on the images above that interest you. You will be able to view more information on your selected tile and request a sample*.
*Sample binders will be provided where available, otherwise small colour match samples will be supplied. 
Please be advised when ordering samples that tiles in this range may be subject to a minimum order quantity of 15m²