Why are white brick tiles so popular?
There is a reason why white walls are so often used in interiors, as they throw the most light back into the room and form an excellent base for any interior design project. The problem with ordinary bare white walls are that they are so common that you simply wouldn't notice them! While they produce bright, airy rooms, designs can quickly appear basic and uninspiring. One answer to this perennial issue is to make use of white brick tiles on walls to create interest without dominating an interior.
At H & E Smith Ltd we manufacture white brick slips and metro tiles and also flat white field tiles which both create the effect of white brick tiles, whilst being extremely hard-wearing and beautifully made.
Our brick slips continue to be extremely popular, and in particular our white glazed brick slips. These Eco-Glazed Brick Slips are manufactured at our Hanley factory from recycled Welsh slate. This recycled slate is then fired on site to create one of our best selling products, our 215x65x15mm brick slip.
These bricks slips are then glazed and re-fired to produce durable and highly decorative white brick tiles for external and internal applications. In addition to our white brick slips, H & E Smith Ltd manufacture these tiles in 20+ standard colours as well as having the capabilities to produce tiles from the RAL colour selector or Pantone colour finder if required. Request a sample of our white glazed brick slip to see our products for yourself.
Our Metro tiles are inspired by the London Underground Tiles that we have suppled over the years. These versatile ceramic tiles are ideal for creating a traditional look of a brick wall with a nod to contemporary design trends. These glossy, bevelled white field tiles form part of our extremely popular range of Metro tiles.
These bevelled white brick tiles are extremely well suited for use as both kitchen tiles and bathroom tiles. Our Metro Tiles are available in 75mm x 75mm and 150mm x 75mm sizes and incorporate a high quality bevelled edge and are an excellent tool to create a feature wall or an entire room with!
If you are looking to create a flat, white brick tile effect wall, our Period Embossed Snowdrop white field tile is an ideal choice for your project. Available in both 152mm x 76mm, 228mm x 76mm as well as our standard square 152mm x 152mm tile, Period Embossed Victorian tiles are an ideal product for creating a beautiful wall. The Period Embossed range is completed by the addition of an extensive selection of solid glazed ceramic corner fittings to match the field tiles.
If you are interested in these tiles, please feel free to request a sample of our Snowdrop white field tile from H & E Smith.
HOW WHITE BRICK TILES ARE USED
White brick tiles are extremely versatile and used for a wide range of applications. Below is a summary of the various uses you may already be aware of, along with a number of applications that you may not have noticed (yet are all around you).
Tiles for Bathrooms
White brick tiles are a perfect choice for the bathroom. Often these rooms are small and can be a little cluttered with products! By choosing the simplicity of white bathroom tiles, you ensure the greatest amount of light is reflected about the room, emphasising the space as much as possible. When getting ready in the morning the light that is reflected from these white brick tiles is natural light (making the reflection you see in the mirror the truest representation of what you really look like!). 
Choose white field tiles for larger areas, or go for a stronger impact by selecting beveled metro tiles or distinctive white brick slips to complete the look. Please contact H & E Smith to discuss your project requirements and we will be happy to discuss the range of options with you.
A bathroom featuring both plain white field tiles for the main wall, with white metro tiles for the bath surround area.
Architectural tiles
From bars to restaurants and commercial offices to public buildings, white brick tiles are everywhere! Again, the reason is obvious – they are bright, easy to clean and far more resistant to wear and tear than conventional painted walls.
Used on their own as a bright, subtle structural tile, or in conjunction with accent tiles for interest, choose from our range of white brick tiles to give your project the resources it needs for success.
We supplied Ben Sherman with large 9×3″ and 6×3″ field tiles for a prestigious retail location.
Tiles for Kitchens
White brick tiles are practical, elegant and hygienic for kitchen use. In this setting they create a bright, airy food preparation area, compliment either traditional domestic kitchens, or commercial kitchens where food hygiene is paramount. As white shows areas where food or grime may gather, these tiles assist the owner of the kitchen in maintaining a healthy food preparation environment.
We can help advise on the most suitable tiles for your kitchen and perhaps suggest options you may not be aware of. With white field tiles, white metro tiles and white brick slips to choose from, along with alternative shapes such as hexagon tiles, you can be sure you will be able to find something to suit your project!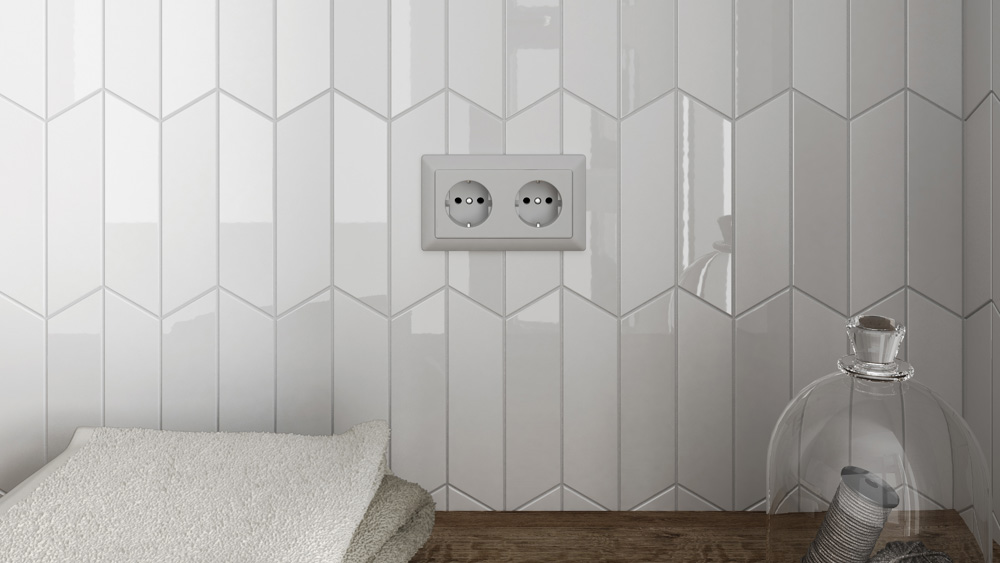 White brick tiles are always a good choice for kitchen walls – they gleam when they are clean (and let you know when they need a clean!).